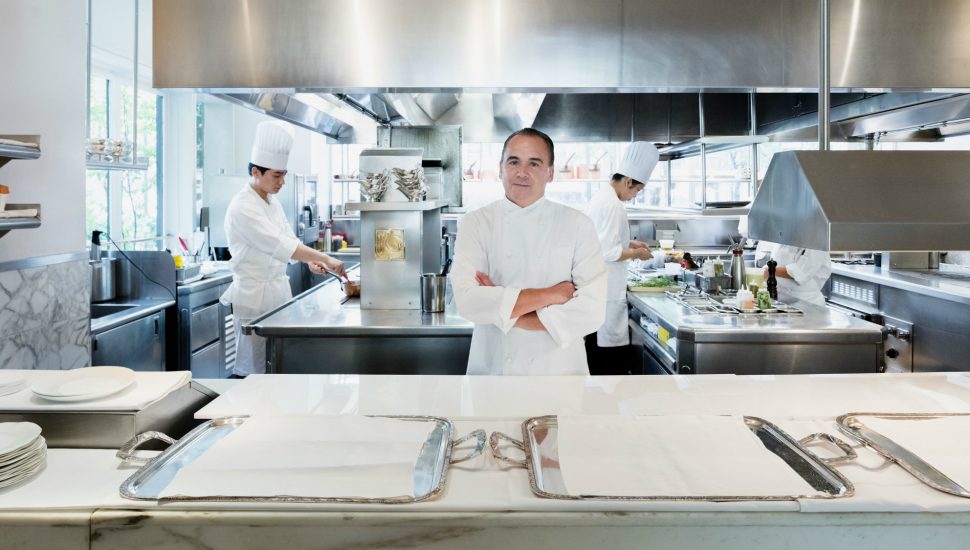 LIFESTYLE
Q: What does LIVING mean to you?
JEAN-GEORGES VONGERICHTEN / Chef —— MY LIVING is #2
As lifestyles become more diverse, the manner in which we live has changed hugely as well. For this series we've asked foremost representatives of various fields to discuss the concept of "living", as it relates to their residence, the way they conduct their life, or the place they mainly live it. In this second of the series, we had the privilege of speaking with Chef Jean-Georges Vongerichten who has enthralled gourmets the world over as executive chef and owner of his many restaurants, including Jean-Georges Tokyo in Keyakizaka, Roppongi. We visited him at his flagship in New York.
photo by Nicholas Calcott
Text by Mika Yoshida & David G. Imber
edit by Kazumi Yamamoto

At 11:30 in the morning, renowned restaurant Jean-Georges' open kitchen is full of light and openness, and a mild air of tension. "I love this time, when the restaurant is about to start its day," says chef-owner Jean-Georges Vongerichten.
To Mr. Vongerichten, whose work has long fascinated epicurean tastes across the globe, this kitchen characterizes his own concept of "living". Over the next quarter hour a smooth flow of lunch guests begins entering the dining room overlooking the kitchen, one after another, and in scant minutes every seat is filled. The dutiful movement of the cooks, the servers' attention to guests and their conveyance of the dishes… All of this, in sum, Chef Vongerichten calls "ballet", and indeed, the wide-open kitchen at the end of the elongated dining room does now take on the presence of a stage.
Restaurant Jean-Georges, on the southwest corner of Central Park, was established in 1997, and would become the launching point as well as center of the Vongerichten empire, overseeing as many as 39 restaurants worldwide. "It's where we develop all the recipes for all the restaurants around the world! … This is really where everything starts."
You may wonder if this chef, regarded as one of the best creators of French cuisine in the United States, if not the world, has loved cooking all his life. "My mother and grandmother did the cooking. We were living in a home with three generations under one roof. I have three siblings, and at lunch or dinner there were as many as 16 people at the table!"
He reflects that the kitchen is "the center of every home. You go there three or four, maybe 10 times a day, maybe just for water or yoghurt. But it's the center, where everything happens, where everybody comes together."
It wasn't until he was sixteen years old that this boy, who had known only the abundance of daily, home-cooked meals, was taken with the charm of a restaurant. "For my 16th birthday my parents took me to an aubergerie." It was the only Michelin-starred restaurant in Alsace at the time. "It was my first experience of fine dining, and it was just so good. The taste of the food, the ballet of the waiters … everything!"
When the chef came to the table, his father informed him of his son's interest in the restaurant, and he was surprised with the offer of an apprenticeship. Chef assumed he'd be "washing dishes for a year, but that wasn't the case. They put me in pastry right away. It was very smart for me to start in pastry, because pastry is an exact science, it's very precise. You can't do a souffle if you don't measure everything, it just doesn't come out."
Forty six years have passed for this culinary pioneer who mastered a hitherto largely unexplored cuisine — French and American, and intricately inflected with Asian influences — to the plaudits of the world. We asked why perhaps 90 percent of his restaurants have had open kitchens.
"I was inspired by restaurants in Asia, like robatayaki. It's very honest! It's right in front of you. I find transparency wonderful. Guests see our every movement, doing our best. There's nothing hidden. And we get to watch them as well. The feedback we get makes our dishes and our service better. Most of all, watching our guests eat is my greatest pleasure!"
To the question of what constitutes his idea of "living" he quickly responded, "My Home and Life". And he speaks of this kitchen, this stage, this crucible of creation, Jean-Georges; in which he now smiles and adds, "where I spend more time than anywhere else".
Q: What does LIVING mean to you?
A: My Home and Life

Bringing New Ideas to Life in Tokyo