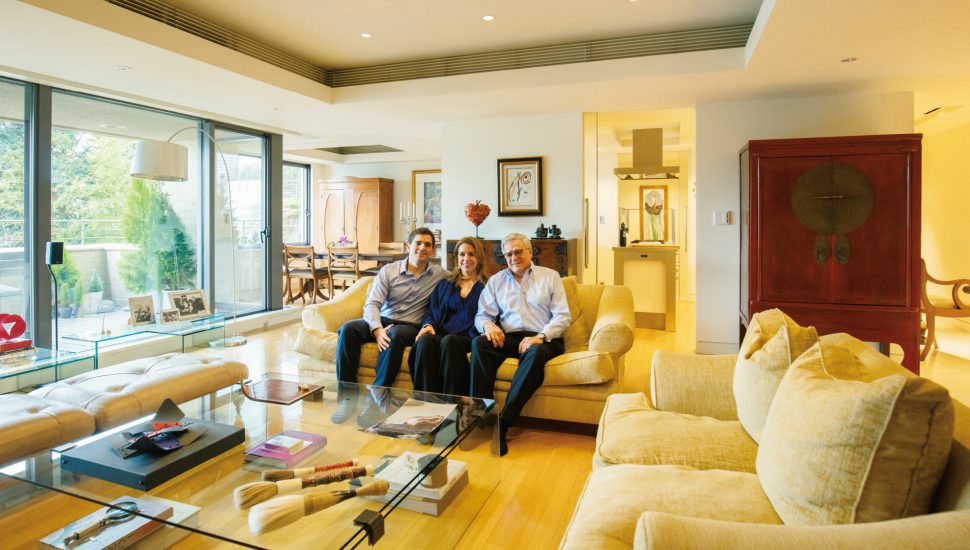 LIFESTYLE
An Intimate Urban Dream Home
Reflections on MOTOAZABU HILLS FOREST TERRACE from a Resident
Surrounded by the greenery of the Four Seasons Hill, MOTOAZABU HILLS is located in a quiet residential area in Motoazabu. A family resident from the FOREST TERRACE East talks about their experience living in one of the apartments. Topics include their apartment space, the security system, communal facilities and the community.
Photo by Satoshi Nagare
Text by Seishi Isozaki
Edit by RCKT/Rocket Company*
"When I first visited the apartment, I knew immediately this would be our home. I'd seen nearly 20 apartments by then but I could tell this was the one," says a smiling Ana Maria, a resident of MOTOAZABU HILLS FOREST TERRACE East since 2015. Ana Maria came to Japan 28 years ago for the first time with her Colombian husband, Julio and gave birth to her first son in Japan. This is her second stay in the country and this time, she is living with her husband and her second son Martin, who is studying at a Japanese university. Julio has also lived in various countries for his business and he says, "Compared to all the places and houses I've lived in, MOTOAZABU HILLS is my favorite."
In addition to the comfortable living space, including a living room with a great view, the efficient kitchen and large closet, the apartment offers access to MOTOAZABU HILLS SPA with a swimming pool, exercise machines and golf range, and to the vista Sky Lounge, which the residents can use as a second living room. With the reliable security system, they are content with their living environment. They value very highly the people who work at the apartment. They are always impressed with the hospitality of the front desk and maintenance staff. "We feel that they are proud of their work and have a sense of responsibility. Supplies are replaced within a few minutes after a request is made. When we asked for window cleaning, their swift and spotless work was breathtaking," says Ana Maria. She also adds that the staff members are never simply businesslike, and it makes her happy that they take the residents' requests to heart. "The front desk service was already bilingual in English and Japanese. But when I shared a few words of Spanish with them, they learned quickly and started to greet me in Spanish."
Julio comments, "They must be the reason why the apartment feels homey and intimate." "This sense of home is very important to us. It feels like we are one big family and I feel comfortable asking them to look after our home when we are away. Also when coming home, it's really nice to see our doormen and front staff. Sometimes, looking forward to seeing them even makes me want to come home early."
On their day off, the family enjoys shopping and eating out in nearby neighborhoods such as Azabu-juban, Hiroo and Roppongi, taking advantage of the convenience of living in the city. These areas not only have modern cosmopolitan neighborhoods, but also shrines and temples as well as old local shops. They are fond of this Japanese atmosphere, too. "The longer we live here, the more we come to appreciate city living where everything is in walking distance," says Ana Maria. Julio feels liberated that he doesn't have to own a car. "We used to own four cars in the U.S. but we don't need a car any more. It is very easy to get around and we can always hail a taxi if we need one."
Their lifestyle now is so comfortable that they say they feel a little depressed thinking of the future. "Wherever we go next, we'll probably feel somewhat disappointed, because we've been quite spoiled here," they say with a mischievous smile.

MORI LIVING
MOTOAZABU HILLS
FOREST TERRACE