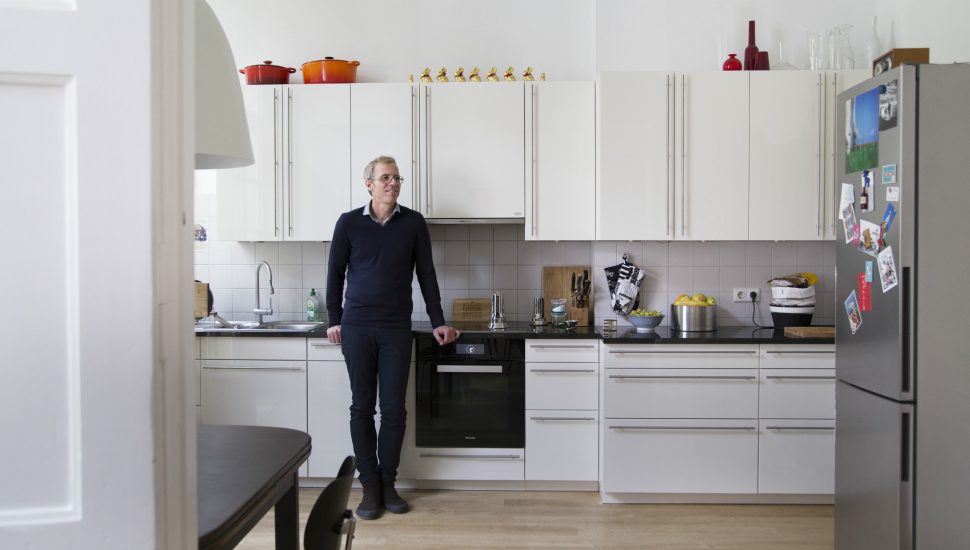 LIFESTYLE
Smart Kitchen, Tasteful Living
A Picture from Germany — Chief Designer at Miele
Jens Keunecke is the chief designer at Miele, a high-end German home appliance manufacturer. Their products are known worldwide for both their high quality and good design. We visited Jens's private kitchen and discussed his thoughts on what a kitchen can offer.
Photo by Rie Yamada
Edit & Text by Yumiko Urae
Translation by Yuki Itai
The headquarters of Miele is located in Guetersloh in West Germany, close to Ruhr, a major industrial district of Europe. Jens Keunecke lives in a nearby town called Bielefeld. His wife Alexandra works for Bielefeld University and they moved into their apartment four years ago. The building is a former assembly hall for a church built in 1913. After renovation, a small movie theater and a day care are also located in the same building and they live on the second floor. The building wasn't meant to be residential originally, but the large 160 square meter space, 4.5 meter high ceiling and spacious balcony make for an exquisite living space.
The couple loves cooking and the kitchen is where they share time together and is a central part of their life. "The former residents wanted to bring this white built-in kitchen with them to their new place, but I quite liked it as it was efficient and in good shape. So I asked them if we could keep it and buy it from them," says Jens. The simple built-in kitchen is from rational, a German furniture maker, and has a cabinet on top for dishes and glasses and drawers at the bottom.
In Germany, people put a lot of thought into their kitchen design, much as they do with their living and bedrooms. Just like we buy furniture for a new place, many people buy a built-in kitchen that speaks to their lifestyle. Even if there may be some restriction due to pluming or the fact that you're renting an apartment, it is common for people to change the kitchen layout according to their taste.
That tradition goes back to the "Frankfurt Kitchen" designed by the Austrian architect Margarete Schütte-Lihotzky in 1926. It was designed for a social housing project in Frankfurt to enable efficient work for women and to be built at low cost.
This revolutionary kitchen had the stove, sink, cabinet and even ironing board all fitted in 1.9 m x 3.4 m (6.2 ft x 11.2 ft) of space. Though the standard size of German kitchens became bigger after postwar economic growth, the philosophy of the efficient kitchen continues to be relevant to this day.
Jens and Alexandra put away everything – pots & pans, glasses, dishes and food behind the built-in doors as we put away our shirts and coats in the closet. In addition to their high performance, one of the reasons Miele's ovens and electric hobs are popular is that the neutral design fits with a wide range of kitchen styles and doesn't become outdated. Their latest designs don't even have handles. Their dishwasher, for instance, opens automatically with two knocks. Their oven and microwave also open by touching the flat screen.
"If the house didn't come with this kitchen, we would have preferred a more simple design, having no handles. The great thing about the dishwasher is that we don't have to wash dishes right away so we can take time and enjoy our meals. Also they can do a much better job than I can. Large dishes and pots can fit in it, too. We use 7.5 L of water per load but we only use it every other day so it's pretty economical."
They both have fulltime jobs and split household duties. Jens likes to cook food in the oven, like gratin, tart and quiche. The oven is easy to clean with high heat. They hire a professional cleaner once a week, which is very common in Germany where many women play strong roles in their workplaces. They say they only do another weekend cleaning and wipe the drawers and cabinet every three months, but the kitchen feels very tidy.
Alexandra is in her final month of pregnancy and Jens picks up groceries and cooks more than usual. But he says he enjoys the time he spends cooking and having conversations in the kitchen.
"In Europe, more and more people start thinking of the kitchen as a piece of furniture. While simple designs have become very popular, there is another trend where people want to expose cups and dishes in cabinets with glass doors. The kitchen expresses the personality of the owner – who they are and what they like. Miele guarantees 20 years for our products. In real life, people can use our products much longer than that. Our team's mission is to design something people want to use for a long time."
Instead of taking for granted that the kitchen is something pre-existing in a house, and understanding that the kitchen is a space that can reflect our lifestyles and values, in addition to efficiency, the process of designing it and the time you spend with your family in the kitchen can become more meaningful.


Jens Keunecke
Born in Kiel. Graduated from the Department of Mechanical Engineering at TU Hannover. Studied at Brunel University, London and Hiroshima City University, Keunecke launched his design project while he was in Hiroshima. After working as senior designer at Siemens AG Design Affairs from 1999 to 2006, he has been head of Miele's design team since 2006.
MORI LIVING