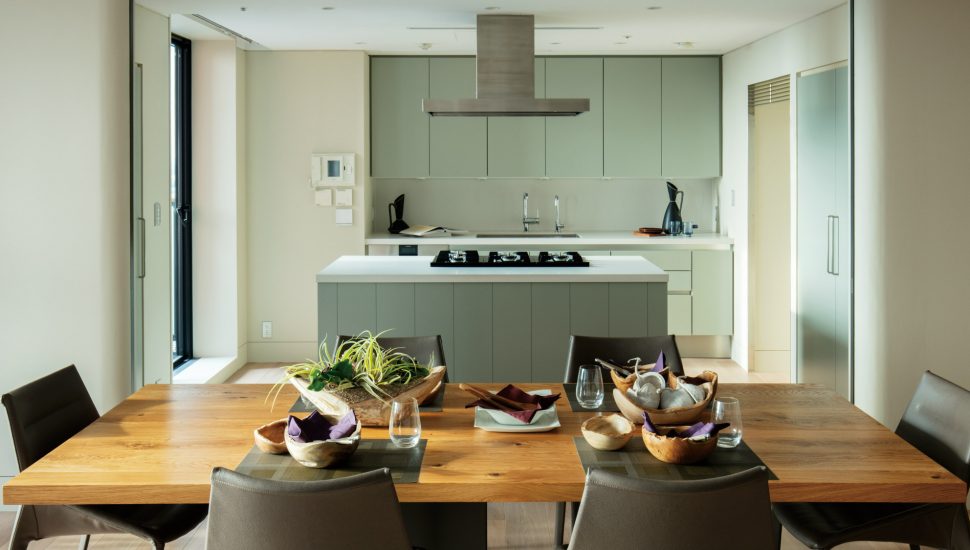 LIFESTYLE
Real luxury in ultimate simplicity
Invitation for MORI LIVING | 31
For the 15th anniversary of Roppongi Hills, Mori Living has redesigned part of Residence C with a new design by Richard Doone. In this article, Doone talks about his new concept and design.
Photo by Satoshi Nagare
Text by Seishi Isozaki
Edit by RCKT/Rocket Company*
Translation by Yuki Itai
Opening in 2003, Roppongi Hills was designed as a cultural heart of Tokyo redefining the concept of luxury at the time. 15 years later, Mori Living has redesigned Residence C with a new design by Richard Doone that showcases enhanced comfort through an expansive reworking of space and light. As a Director of Conran & Partners, where he worked for 26 years, Doone led their projects in Asia, including the Roppongi Hills Residences.
"As I had already left Conran and established my own studio in 2010, the commission came as a delightful surprise", said Doone. Typically, the work of an architect is finished once the building is handed over to the client. "This is a rare opportunity to return to a project, evaluate my own work objectively and to be able to renovate it. Such opportunities don't come by very often."
Conran & Partners originally designed the 27th to 36th floors of Residence C with the themes of Forest, Desert, and Mountain. With this project Doone is redesigning the Mountain themed apartments with a new concept.
"When I design a new project, I like to start by developing a story, or narrative, that gives the design a direction. With the Roppongi Hills new project, the concept is of a Shoreline. I was inspired by that place where the surf touches the land." The stonewall represents the horizontal geological layering of a rock face and the rounded edges of the walls and columns refer to the smoothed surfaces created by weathering and erosion. Pale wooden flooring suggests a boardwalk along the shore and the pale green of the kitchen portrays the colour of seaside grasses faded by the sun.
"The narrative," Doone continues, "is important to us because it gives holistic direction to the design, but it isn't essential that the story is overtly apparent to a resident. What matters most is that they live comfortably."
Designing within the Shoreline narrative, Doone also sought to simplify the design. He thinks of luxury as being synonymous with understated sophistication, and for him that ultimately comes down to simplicity. "Some designs express luxury through ornament and decoration, but I prefer to portray luxury by focusing on purity of materials and high quality details. Mori Living shares these same values, and they also know how difficult it can be to achieve. It was an honor being able to work in such a collaborative environment."
Doone says he has developed a great deal of respect for his Japanese colleagues at Mori Living. Their dedication to quality and maintaining the highest standards is absolute. "Curving the corners of columns, widening the floorboards, or fitting a sliding door perfectly into a wall pocket might in themselves be perceived as low-profile elements of construction. But the craftsmanship and focus to achieve such work beautifully requires dedication and is a fundamental in creating interiors of understated sophistication."
Trends come and go, and what defines luxury may be relative, but there is a global movement in which the value of simplicity is being rediscovered. The Shoreline at Roppongi Hills Residence C is at the forefront of this movement, embodying its essence with uncompromising beauty.


Richard Doone|Architect
Trained as an architect at the Bartlett School, University College London, Richard worked at Conran & Partners (former Conran Roche). He led many international projects including Roppongi Hills in Tokyo and Niki Club in Nasu. In 2010, he established his own architectural studio Doone Silver Kerr.
MORI LIVING
ROPPONGI HILLS RESIDENCE


Address 6-12-1〜4 Roppongi Minato-ku Tokyo 
Access 5 minute walk from Roppongi Station (Hibiya and Oedo Subway Line) and 9 minute walk from Azabu-Juban Station (Namboku and Oedo Subway Line) 
Amenities 24h Bilingual Front Desk Service, Doormen & Porters, Medical Services, Room Service, Housekeeping, Storage & Parking, Pet Friendly, Spas & Fitness, The Sky Lounge, Guest Room
Contact Mori Building Co., Ltd. Residential Department
Tel 0120-52-4032
www.moriliving.com