INNOVATION
SPECIAL

Toranomon Hills Station Tower Opening on October 6th
CONCEPT IN MOTION
How Yugo Nakamura shaped the identity of TOKYO NODE
When Toranomon Hills Station Tower opens this fall, one of the main attractions will be TOKYO NODE, the multipurpose nexus designed to unite people and foster cultural innovation. The center's ingenious logo was conceptualized by Yugo Nakamura, a web and interface designer who has been pushing the boundaries of web design since the turn of the millennium. In conversation with Ou Sugiyama of Mori Building's New Experience-based Activities Department, Nakamura explains how his musings on motion gave him the idea for the logo and imagines what might come out of TOKYO NODE.
TEXT BY Shunta Ishigami
PHOTO BY Koichi Tanoue
Translation by Soli Consultants, Inc. illustration by Adrian Johnson
Sugiyama TOKYO NODE is Mori Building's new creative hub, occupying about 10,000 square meters on the upper floors of Toranomon Hills Station Tower. Its event hall, galleries, restaurants, and rooftop garden will take on a wide variety of functions. We hope to hold many exhibitions and events there, bringing all sorts of people together to create new cultural touchstones. Yugo, it was an honor to have you create the logo for TOKYO NODE. What did you think when we first reached out to you?
Nakamura Honestly, I was a little surprised. I mostly create interactive programs and computer animation, so I do have experience creating moving versions of logos that already exist or are already being worked on. Only rarely have I been involved in shaping a visual identity from the very beginning. But when you and I talked after you contacted me about the project, you convinced me to come aboard.
A digital-first approach to logo design
Sugiyama In that first meeting, I explained the concept behind TOKYO NODE and described our hopes for the logo.
Nakamura Until recently, most logos and visual identities were created for use in print media, with use in digital media such as websites, smartphone apps, and video seen as simply an extension. That's why I was struck by how you stressed the importance of digital media—as well as the metaverse and 3D spaces—over print media. In our daily lives, we spend more time looking at screens than paper. It might seem like an obvious step, but I came away feeling that this is the future of logo creation.
Sugiyama What did you have in mind when you first started working on it?
Nakamura When you first described the name and concept of TOKYO NODE, I thought that it would be difficult to represent as a logo. A node is a nexus or intersection in a network. You can't depict a node without also depicting the network, which makes for a more complex iconography. It's better for a logo or visual identity to be simple, but that's contradicted by the necessity of the logo embodying a network.
Sugiyama That's true. If I were to make a visual representation of a network, I would need to include a lot of elements.
Nakamura Designing a graphic as iconography or form is also a little outside of my realm of expertise, and I felt as though it had been done to death. So, I thought that maybe I could do something new by playing with motion; maybe I could use motion in a symbolic way.
A concept embodied in simple but dynamic motions
Sugiyama It is very like you to start a logo design from the concept of motion. I found it a novel approach. You came up with the motion idea fairly early in the design stage, right?
Nakamura I began coding the motion pretty early on. I proposed a still image too, of course, but designed it while referencing the moving version. Only after converting the TOKYO NODE concept into a program and translating it into motion did I create the still logo.
Sugiyama The usual approach is to create a logo and then add motion, but you came at it from the opposite direction.
Nakamura Looking back, my first pitch already contained the skeleton of the completed design. Once we'd decided on the concept—straight lines moving along trajectories as they trace out the letters in "TOKYO NODE"—we considered a number of options for font weight and the lines. I asked another designer to create the typeface. I'd tell her, "After you've finished designing the font, try picturing yourself pouring noodles through the crisscrossing lines as they trace out the letters!" If the noodles got stuck, that means the design wasn't working because the motion wasn't smooth enough. We had so many discussions about which letters would or wouldn't get noodles snagged in the lines.
Sugiyama Those lines in the logo do look like noodles would slip right through! I think that the use of motion is a hallmark of you and your work. You have been a pioneer of web design since the early days of the internet, but recently you have been exploring new ways of depicting motion.
Nakamura I used to try to create dynamic websites and interfaces that featured moving elements, but at some point I realized that what I really wanted to create was not websites, but motion itself. I also realized that I didn't need to stick to the web to do so. So, I started working on the design, planning, and filming for an educational program called Design Ah! and more recently developed a video game called Humanity, which came out in May. I created Humanity out of the desire to direct the motion of vast crowds of people; I wanted to guide thousands or tens of thousands of people to move about seamlessly.
Sugiyama Humanity really does convey the joy of motion.
Nakamura The motion of the TOKYO NODE logo is similar, I think. It's not flashy, but it's like watching the flames of a campfire—you can look at them for a long time and never get bored. It was important to incorporate that quality into the center's visual identity.
Sugiyama Unlike a logo in an ad or TV show, a center's logo and visual identity need to be able to remain attractive for decades. When you design a logo, do you consider how long it will be used?
Nakamura I used to design bridges—those kinds of civil engineering projects definitely have much longer lifespans than a piece of digital media! Digital media tends to be new and exciting, so it is true that creatives in the field often assume that their designs will not last. However, I wanted to create something that would never get boring even though it's based on simple ideas and structural principles. You know, there hasn't been much of a change in how we perceive motion. Take old Disney movies—the animation is still as captivating as ever. Creators reference the Twelve Principles of Animation, as Disney called them, even today. I think that a well-crafted depiction of motion never gets old.
A novel way of looking at one's surroundings
Sugiyama There will also be a lab at TOKYO NODE. I hope we can continue to collaborate with you there, Yugo, now that the logo is complete.
Nakamura It's unusual for a cultural venue like TOKYO NODE to also have a lab.
Sugiyama Mori Building alone cannot build a framework for supporting innovation, so we put together a team with some companies offering infrastructural expertise—like TV stations and telecommunications carriers. We're exploring ways to offer cultural services and entertainment based here in the Toranomon area.
Nakamura So the lab will provide the tools for supporting people in their creative endeavors. If I were to do another project with TOKYO NODE, it would probably have to do with design. I don't have anything specific in mind, but I like to think about the ideas I already have and how I can make them more effective—how to present them in the best way possible. I'd be happy to get involved in that sort of thing at TOKYO NODE.
Sugiyama In that case, maybe you could think about TOKYO NODE's user interface. We've been grappling with how best to guide visitors around the facility, given its complex layout. When you pitched this logo, you talked about using it in 3D spaces. It made me realize that we need to start considering digital overlays, like virtual reality, when we design places like this.
Nakamura It may be some time before everyone is using VR, but I believe that at some point in the future there will be a change in how people look at the spaces around them. We might take a different approach to signage, for example, by devising a way to draw the eye up to the ceiling. Ceilings are often left unused, so we could consolidate all of the clutter of informational signage onto the ceiling. Since TOKYO NODE is so complex, I can imagine that too much physical signage could intrude on, say, a minimalist art exhibition. I'd like to come up with clever solutions to issues like that.
Sugiyama People say that the pandemic is over, but I don't think we will simply return to our pre-pandemic lifestyles. We need to rethink how people experience places like TOKYO NODE.
Nakamura Reservation systems for exhibitions have become common. It would be interesting to create a similar system that helps visitors curate their experiences at TOKYO NODE.
Boosting the appeal of the neighborhood
Sugiyama Yugo, what did you think of the concept behind TOKYO NODE?
Nakamura I thought it was very ambitious. I think Mori Building was the first to incorporate cultural centers into large multi-use urban complexes—like Mori Art Museum and Tokyo City View at Roppongi Hills. I like these places and visit them often. I see TOKYO NODE as an updated version of these centers.
Sugiyama TOKYO NODE might be odd even for a cultural center. The Toranomon area is on its way to becoming a center for global business, but here is this place that's not exactly a museum, not exactly an entertainment facility, and not exactly a business exhibition center.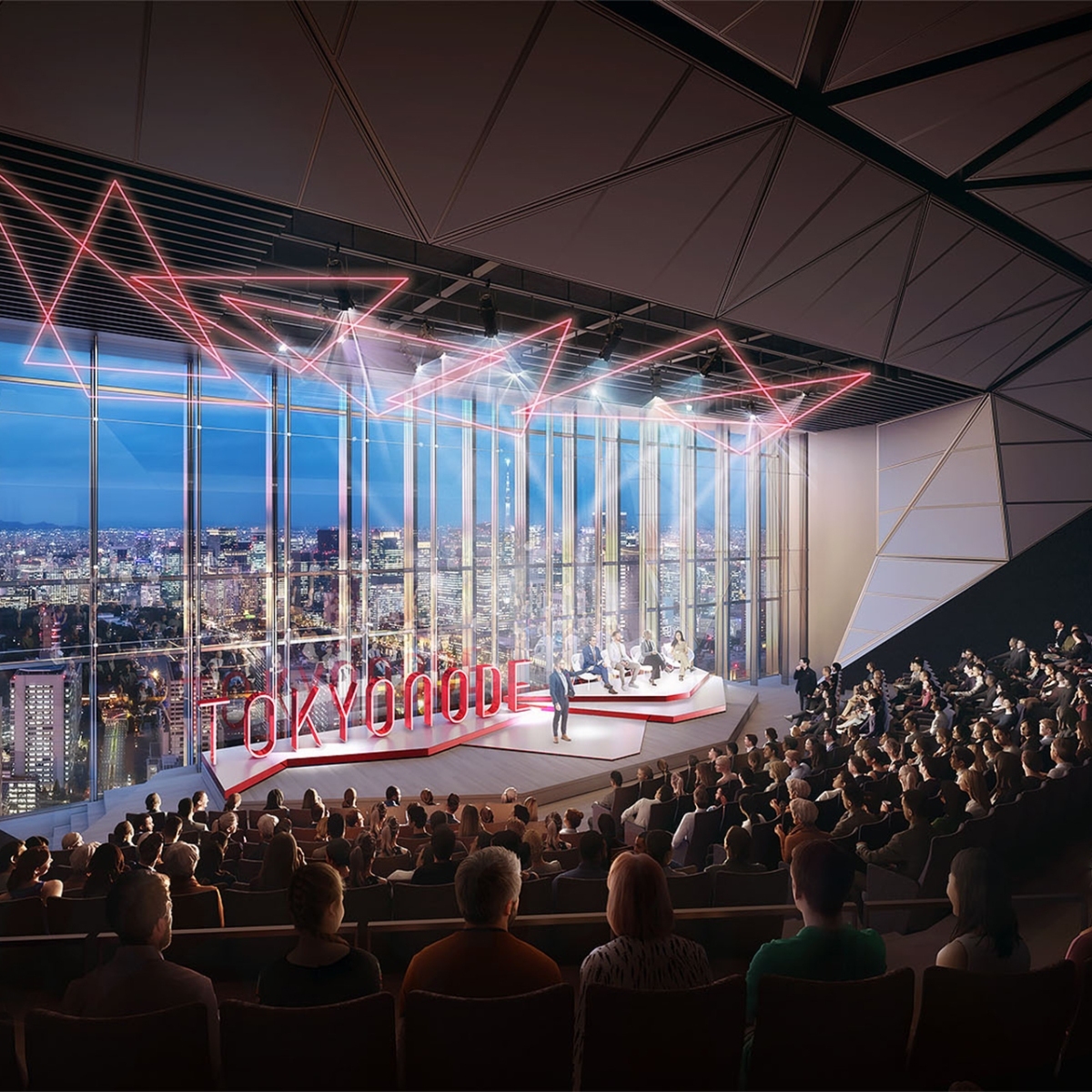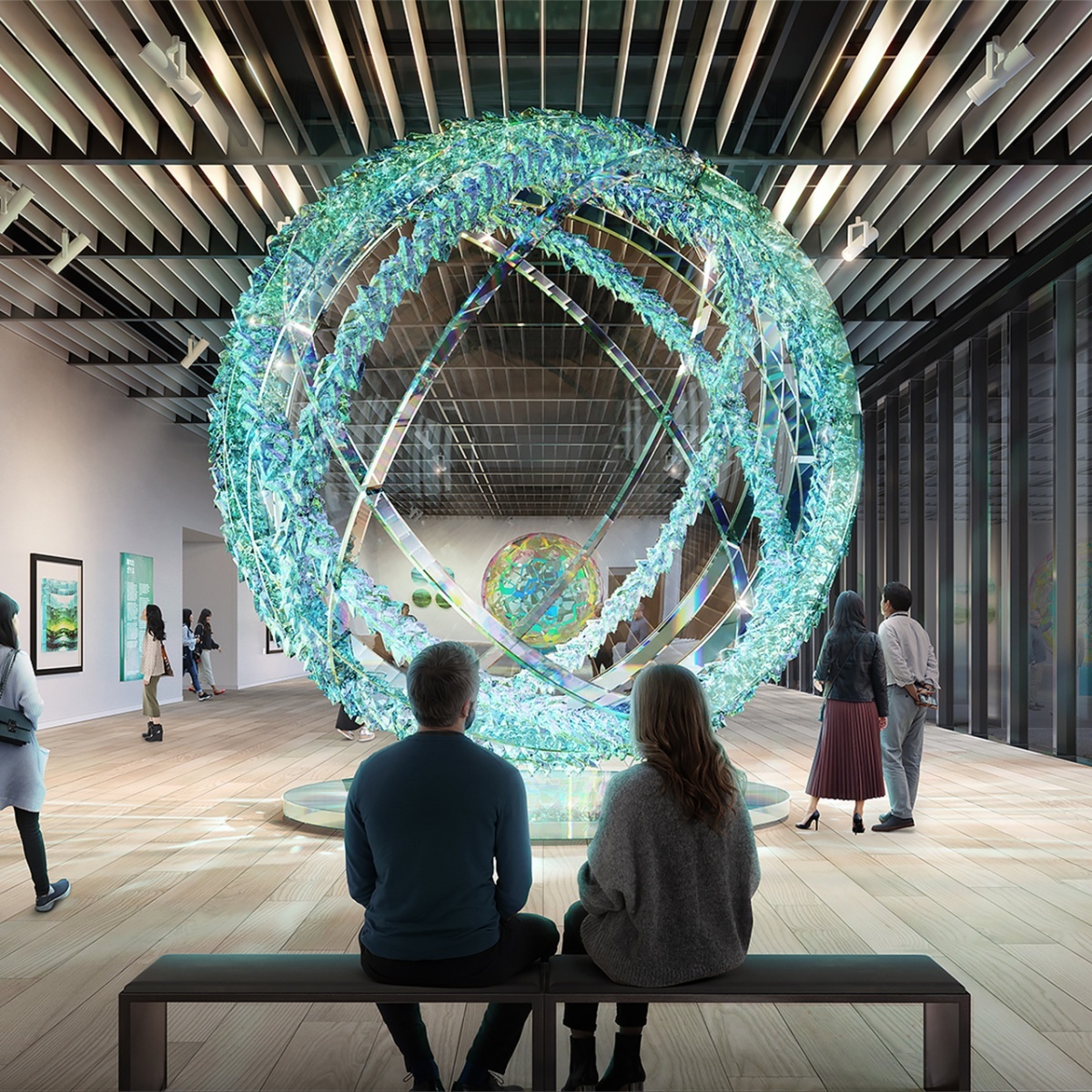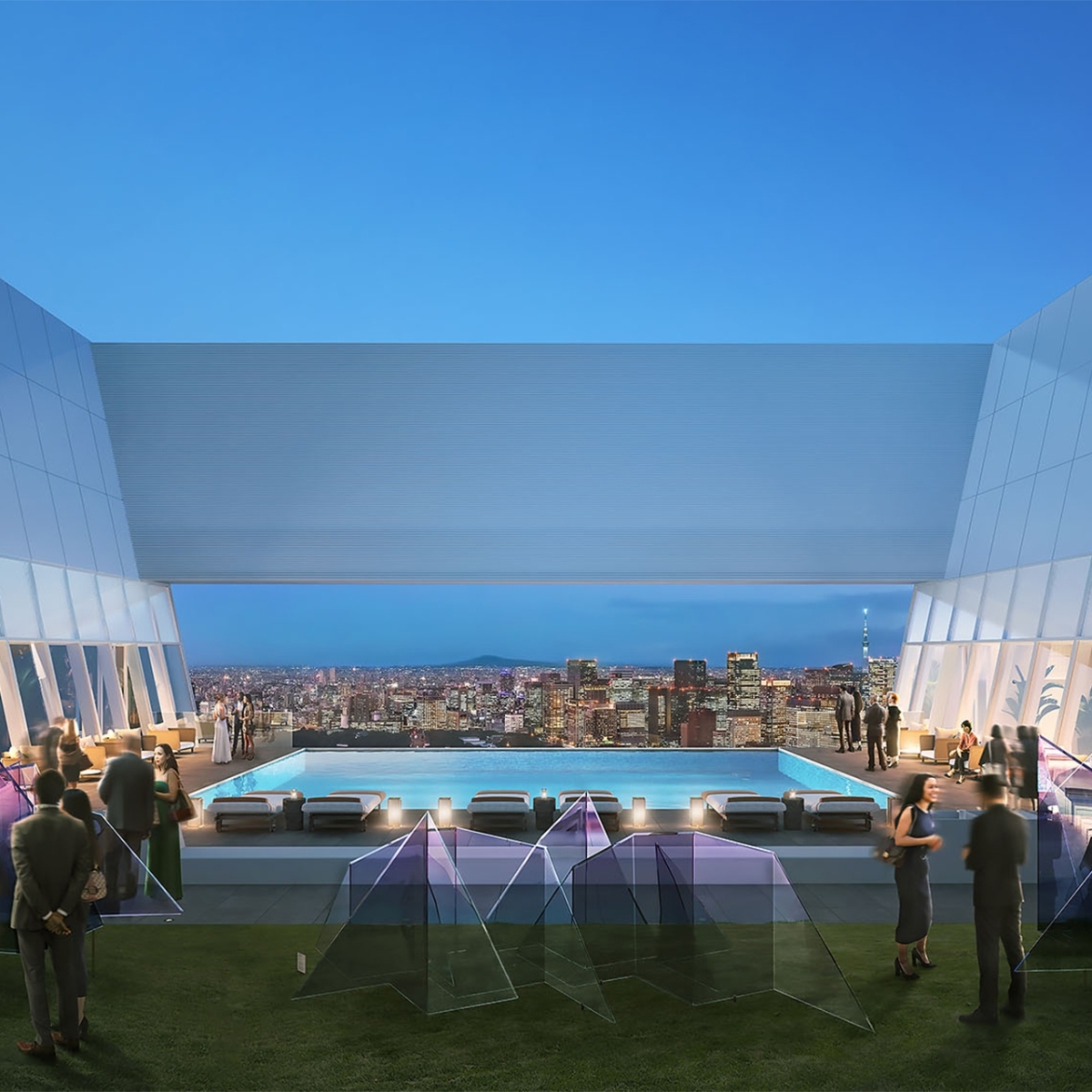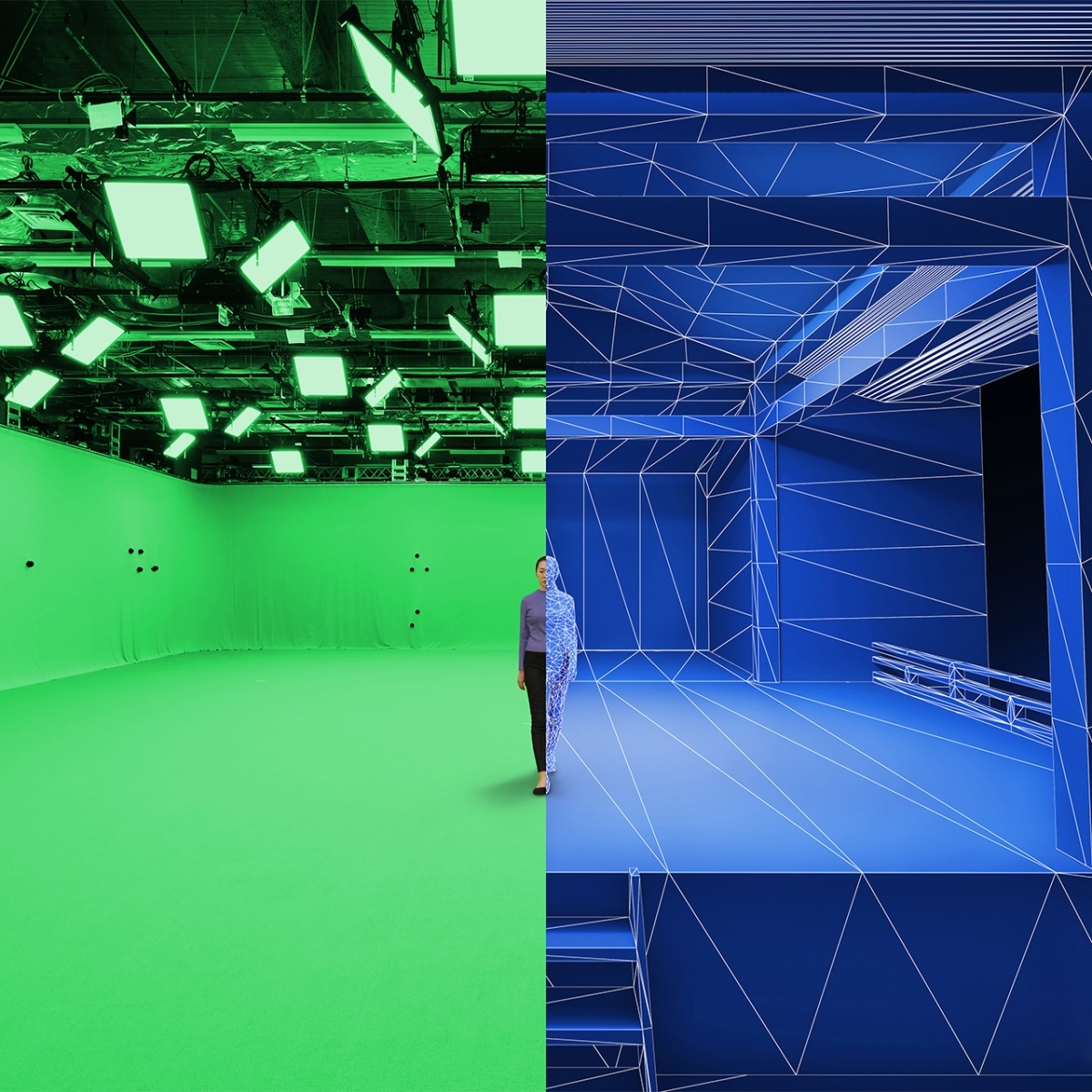 Nakamura It is hard to describe, isn't it? The fact that we don't know what kind of place it will grow into is what makes it so intriguing.
Sugiyama I believe that new ideas are born out of these fuzzy areas. It is at the intersection between existing genres and concepts that new movements come into being. That's what a node is. In the same way that Toranomon is a transportation nexus, TOKYO NODE serves as an intersection where many different people and genres meet.
Nakamura I also found the side view of TOKYO NODE striking, architecturally speaking. It looks like a huge attic: it's a place of mystery, and you're never quite sure what you'll find when you go up there. When you think of Toranomon, you think of offices. I'd be happy to see people who aren't usually associated with the area—people like children and retirees—start to come here. So, when did you start planning for this project?
Sugiyama The plan for Toranomon Hills Station Tower came together seven or eight years ago. We knew we wanted to create a place on the upper floors where we could foster cultural innovation in our own way, but we didn't really have any specific plans. Then, as everyone began to debate the necessity of offices during the pandemic, we remembered one of the key factors that define a city: interactions between people and the ways in which these interactions can give rise to something new. So, we started thinking about how to create one-of-a-kind experiences.
Nakamura You knew from the beginning that you were going to build a cultural center?
Sugiyama Yes. However, it was a real challenge for us as a real estate developer. If all you're doing is creating shiny buildings based on cool concepts, then you end up creating the same kinds of complexes everywhere with the same kinds of shops and the same kind of ambiance. Convenience is not a bad thing, of course, and it is what many people are looking for. But I think that real estate developers like us need to be proactive about developing new, innovative services, experiences, and forms of entertainment. That's why Mori Building develops facilities like Mori Art Museum and incorporates art into its urban development projects. With TOKYO NODE, we pushed the idea even further because we wanted to create something that doesn't exist anywhere else.

Nakamura Many aspects of Mori Building's projects reveal how enthusiastic your team is. I can just picture you in some mysterious room filled with a huge diorama that precisely replicates central Tokyo as you plan your next project! You're passionate even when it comes to things that may not directly profit the company.
Sugiyama At Mori Building, we want Tokyo to be the best city in the world. To achieve this vision, we need to think about how to enliven Tokyo as a whole, not just our own buildings. We want to do more than just construct buildings; we have a long-term responsibility to the city, and we want to keep improving it for a long time to come.

Yugo Nakamura
Yugo Nakamura is a web designer, interface designer, and video director. He is also a professor at Tama Art University and the owner of tha ltd., a design studio that he founded in 2004. His portfolio includes providing overall website direction for Uniqlo, designing the user interface for the Infobar smartphone from KDDI, and directing Design Ah!, an educational program from NHK, the Japanese public broadcaster.