INNOVATION
SPECIAL

AZABUDAI HILLS Opening on November 24th
AZABUDAI SKYSCRAPER DESIGN
Exploring the secrets behind the three Azabudai Hills towers | An interview with Fred W. Clarke
The three towers of Azabudai Hills—including the 64-story Main Tower, which at 330 meters is currently the tallest in Japan—feature striking profiles courtesy of U.S.-based architectural firm Pelli Clarke & Partners. We talked to Fred W. Clarke, one of the firm's founders, to learn more about their approach to designing these buildings.
TEXT BY MARI MATSUBARA
PHOTO BY KOTARO WASHIZAKI
Translation by Soli Consultants, Inc.
COURTESY OF PELLI CLARKE & PARTNERS JAPAN, INC.
illustration by Geoff McFetridge
——We would like to start by asking what, to you, is the ideal city.
Clarke There are five elements I consider important for the ideal city.
A city with numerous city centers
Clarke The first is safety. This is a fundamental and important aspect of living in a city. The second is the promise of a fulfilling life. The city must provide you with ample opportunities for finding work, making a living, and raising a family. Once you feel safe and are able to make a life for yourself, next comes community. You start looking for others who share your interests. The fourth element is being able to clearly define the social rules of the place. A city attracts large numbers of people. To ensure that such a diversely populated place functions in a civil manner, future urban design will need to incorporate elements that help influence and support how people behave in social situations. The fifth element is a sense of place. The city needs to make you feel like you belong. As humans, we all need a place where we can put down our roots and call our own.
Now, how should these elements be applied to the world we live in today? One estimate predicts that by 2050, seventy percent of the world's population will be living in cities. What this means is that our lives and our cities need to evolve so we can accommodate this change. In other words, we need to explore ways to transform our current urban models—in which a city revolves around a single center—into a model that accommodates numerous city centers. Think of self-sufficient skyscrapers and walkable neighborhoods where you can live, work, and play.
The ideal proportion for a skyscraper
——How did you incorporate these elements into the Azabudai Hills towers?
Clarke An important part of our thinking was that we saw the entire development as a city within the city, not just three distinct towers. This goes back to the original idea of the masterplan of the complex, which was strongly influenced by the old topography of Tokyo. We wanted the buildings to be proud symbols of the history of this part of Tokyo and Minato City. At the same time, these are very forward-looking, progressive buildings that speak to the future. We also realized what an important responsibility and assignment we had been given, considering we were tasked with building the highly visible Main Tower so close to Tokyo Tower. Architecturally, it was important for us to recognize the Main Tower as representing Japan looking toward the 21st century and beyond—just as Tokyo Tower was symbolic of Japan's economic resurgence in the 20th century. I also like the symbolic and architectural contrast between the industrial, exposed structure of Tokyo Tower and the smooth tautness of Azabudai Hills Tower.
In our present thinking, it is the responsibility of a tall building is to reach the ground and sky in celebratory ways. This is why the top of Azabudai Hills Tower has a flower-like, four-petaled shape, opening up to the heavens and embracing them. Tall towers should be poetic!
——We notice the tower has a bit of a barrel-like shape. Could you tell us more about this distinctive design choice?
Clarke Ideal skyscrapers like the Chrysler Building in New York are thin in width relative to their height—a proportion of about 1:6.
We make a distinction between tall buildings and skyscrapers. For us, a skyscraper is, first of all, bilaterally symmetrical, which allows it to reach to the sky in a very powerful, clear, and timeless way. Ideally, the proportions would be something in the neighborhood of 1:6 or more. The Main Tower needed to be a skyscraper!
However, the main floor plate of the Main Tower is very large—almost 6,300 m2, twice the size of the largest tall office building being built in the United States. So, how do you create a slender profile with a skyscraper that's eighty meters on each side? We decided to think of the building as a bundle of four skyscrapers, each with an ideal proportion of about 1:8. This is why there is such a visible division in the middle of the exterior, and why it folds slightly inwards as the tower rises. This gives the tower rounded corners that look spectacular in any weather, as well as a slender profile.
Giving shape to the "city-within-a-city" Mori philosophy
——You worked on Atago Green Hills and Ark Hills Sengokuyama Mori Tower when your firm was known as Pelli Clarke Pelli Architects and led by César Pelli, who has since sadly passed away. That would make Azabudai Hills your third collaboration with Mori Building.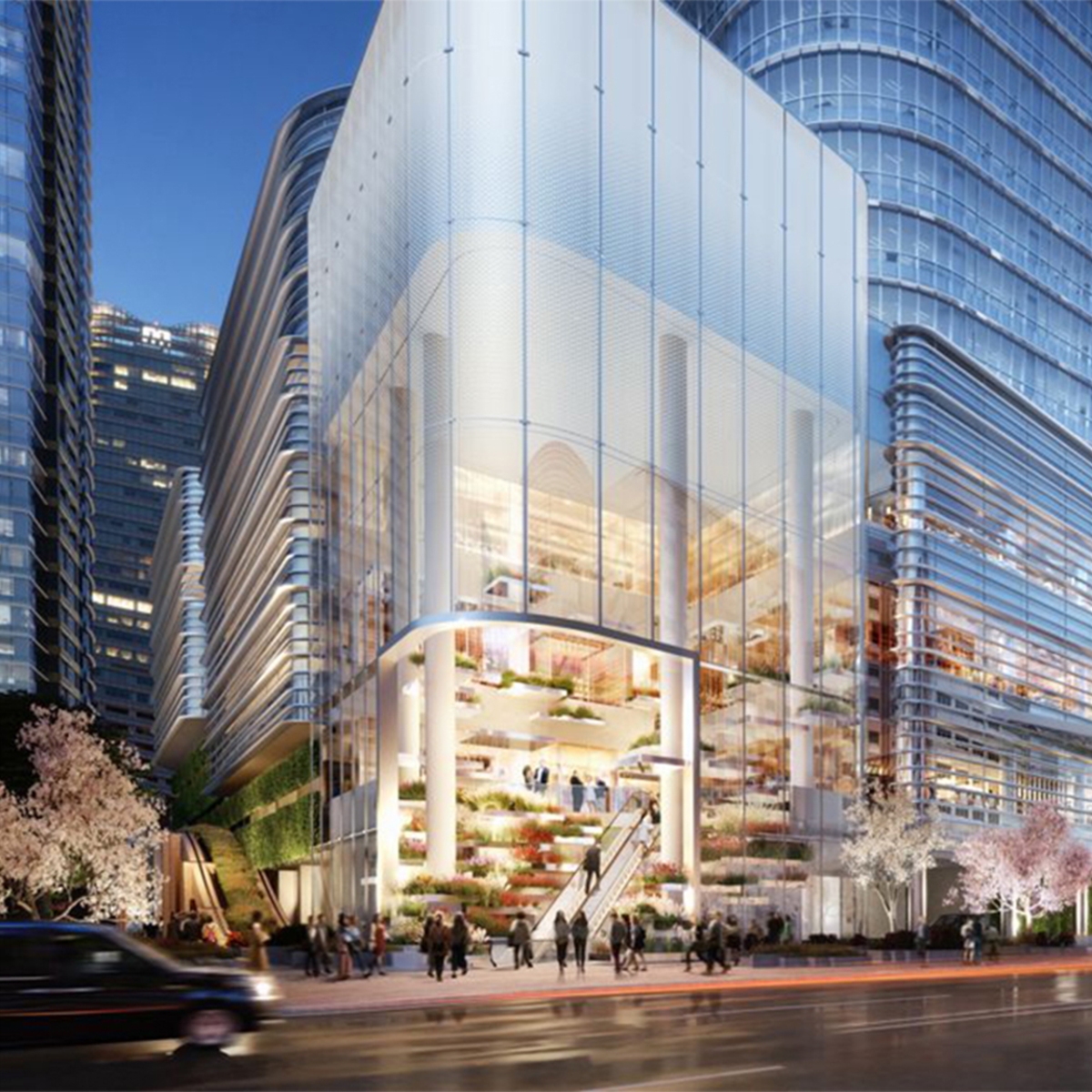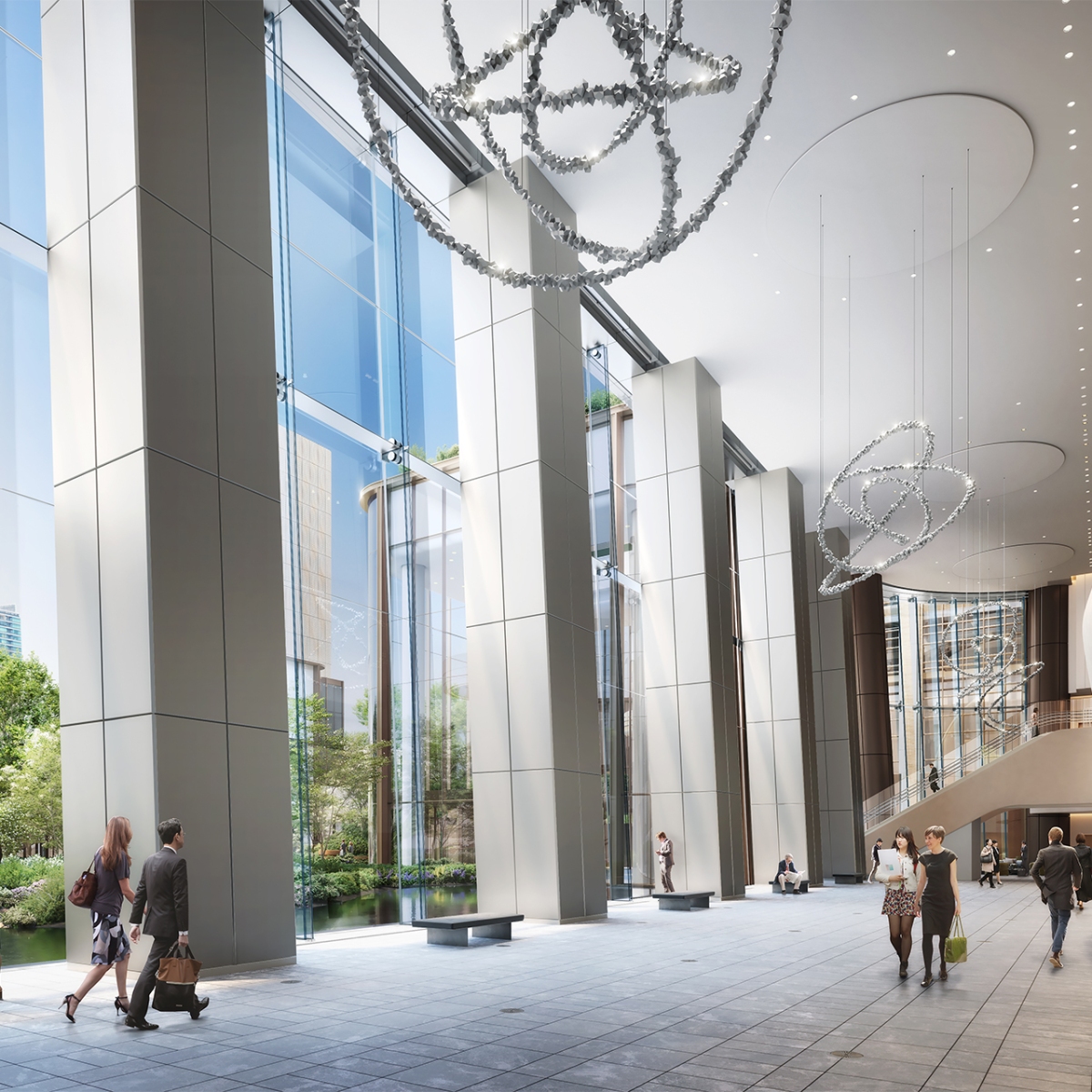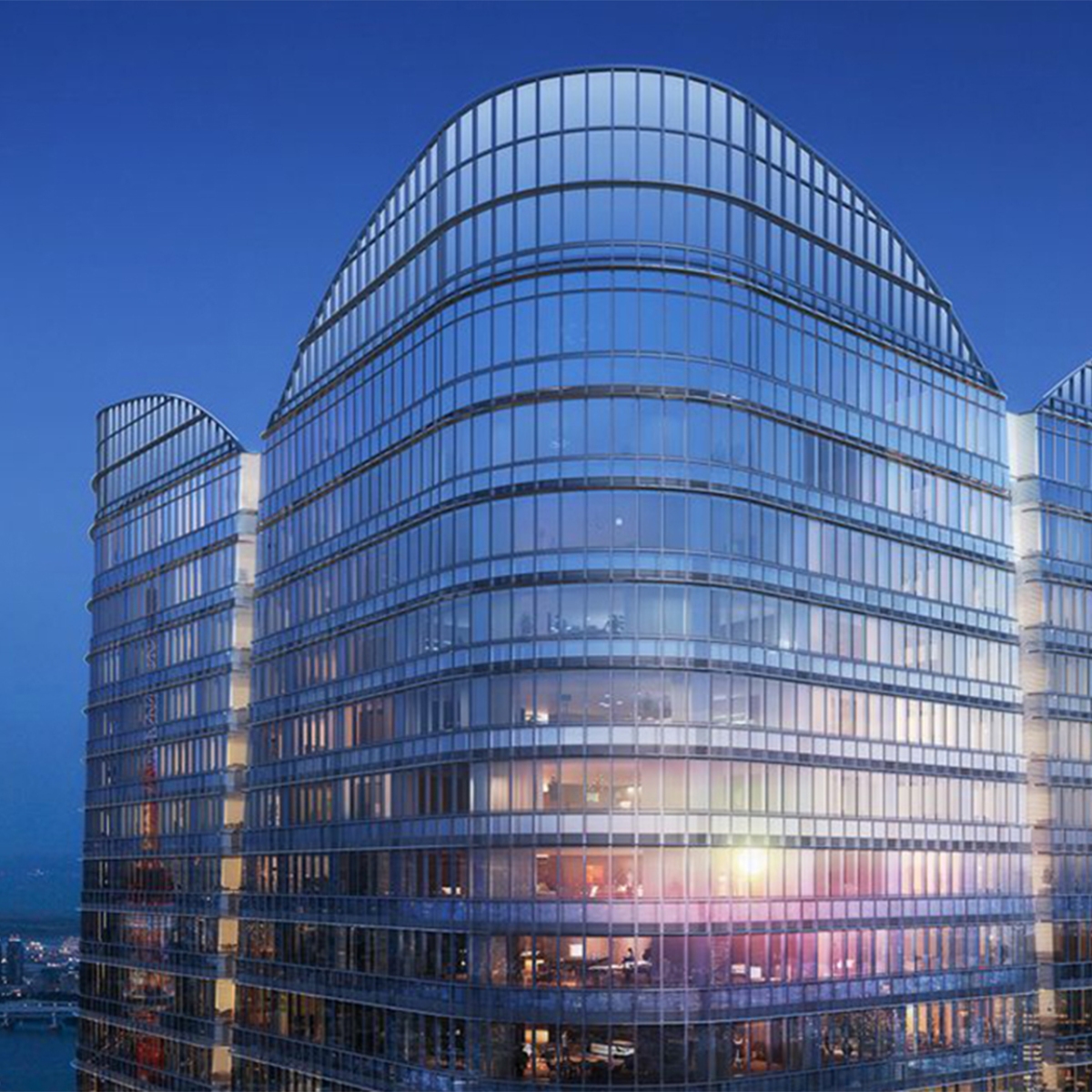 Clarke Yes, and I feel like we have created something of a "Mori-ness" since we started working thirty years ago with the late Mr. [Minoru] Mori. I don't think it was necessarily Mr. Mori's intention for us to create a kind of brand identity on the skyline; I think that evolved naturally. We started realizing that there is something of a family-like relationship between all of these buildings going all the way back to Atago Green Hills. Each has a distinctiveprofile and the city-within-a-city dynamic that defines Mori-ness. Now, all designers want to work for Mori Building. And why? Because they adopt and accept creative ideas, making the company one of the most inspiring developers in the world.
——With the buildings complete, Azabudai Hills is now scheduled to open to the public in the fall. How do you feel?
Clarke I have to say that these buildings mean an enormous amount to me personally. I feel both pride and satisfaction. This was never a commercial enterprise for us; it was always about contributing to this wonderful city. The Main Tower design is timeless, and the building will continue to stand strongly in the middle of Tokyo. No one can repeat the design elsewhere because it's so specific to the place—Azabudai. There's also a lesson here, that even the tallest building in Japan can be a serene presence in a city as dynamic as Tokyo.
*This interview was conducted in August 2019.

Fred W. Clarke
Clarke met César Pelli while attending University of Texas at Austin, where he graduated in 1970. In 1977, the two men founded the architectural practice César Pelli & Associates, renamed in 2005 as Pelli Clarke Pelli & Partners. The firm was renamed a third time in 2019 as Pelli Clarke & Partners following the death of Pelli that year. The firm is responsible for some the world's most iconic buildings, including World Financial Center, Carnegie Hall Tower, NTT Shinjuku Headquarters Building, and Abeno Harukas.